The concept of having a designated driver began a long time ago when the idea was developed in Scandinavia in the 1920's.  Then later on in the 1980's designated driving was rolled out in Canada, where it was widely accepted by the Police and other important organisations.  The idea was a massive success and quickly became adapted in most other countries including America, Australia, South Korea and England.  If you're planning to go out drinking with a group of friends or family members it's a great idea to have one-person volunteer as your designated driver.  This person will commit to not having any alcoholic drinks and to staying completely sober so they are safe to drive everybody home.  The need for a wider selection of soft drinks to be readily available at restaurants, pubs and clubs has never been greater.  Websites such as https://empireuk.com/ are Post Mix Suppliers and just one source that soft drinks can be obtained from.
Some restaurants, bars and nightclubs are now promoting a bigger range of soft drinks and at reduced prices or on special occasions even free.  To be the designated driver and promise to only consume soft drinks takes will power and commitment, as all your fellow party guests will be drinking alcohol.  As the party continues and your friends drink more, become louder, seem to have more fun and generally act crazier your dilemma could be "shall I have just one drink?" This could weaken your resolve to act responsibly and you might decide to have two, three or more alcoholic drinks.  This is when the plan to have a responsible, sober driver falls flat, the person who promises to be the designated driver cannot consume any beverage that's alcoholic and can only have soft drink options.  The sad fact is that some people promise to refrain from drinking so that they can drive but then get drunk anyway.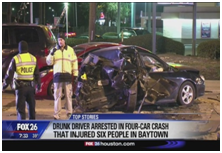 This is when tragic accidents occur, people get hurt, maimed or even killed because the driver of the car they are in has had too much to drink!
Major soft drinks companies are now running advertising campaigns to promote the designated driver idea.  Coco Cola have been running this type of advertising for ten years in a row and in partnership with the Governments THINK! Drink, Drive campaign.  Their idea is a simple but effective one, if the designated driver shows their keys at participating pubs and restaurants and buys a Schweppes or Appletiser then they can have a second drink free.  This can certainly have a positive influence on a sober driver who saves money and has fun throughout the party. Stop drink driving, have a great party but stay safe and have a designated driver