Do not know where to go on vacation, to have a great time and not waste all your savings? We have compiled a guide to the cheapest (but extremely photogenic) directions – from Prague and Lyon to Bali and Rio de Janeiro.
Lyon, France
Postpone vacation to France, because you expect that he will fly you a pretty penny? We are glad to please you: you can spend the weekend in France without wasting money – if you go to Lyon. The old streets of Lyon are not less atmospheric than the Parisian ones, and living here is much cheaper, especially if you book accommodation, for example, on Airbnb (up to $ 80 per night). As for the sights, there are quite a few of them: from the Roman-Gothic Cathedral of Saint-Jean to the 19th-century Notre-Dame-de-Fourviere Basilica and the ruins of a Roman theater. When you want to eat, go to the nearest bakery for a fresh baguette (€ 2), and in the grocery shop buy cheese and fruit (€ 4) – have a tasty, hearty and inexpensive meal.
Bologna, Italy
If you are planning a budget holiday in Italy, go to Bologna. Good accommodation here can be found for less than $ 50 per night (look for the best deals on the Internet). To have a delicious meal, check out the nearest cafe – a portion of Italian pasta with a glass of Lambrusco and coffee will cost you € 15. We also recommend trying UN Panino con Mortadella – the famous Italian sandwich with cold cuts (€ 5). As for walks through the picturesque streets, they are absolutely free. And if you want to explore the city's museums and galleries, purchase the Bologna Welcome Card (€ 25), which will allow you to visit the iconic sights of Bologna at a big discount.
For less than $ 50 a night, you can find accommodation in Porto, one of the most beautiful cities in Portugal. Experienced travelers advise visiting the Gazete Azulejos ceramic tile factory in Porto – the tiles here are incredibly beautifully painted and even offer visitors to make their own. A tour to the factory, which includes a walking tour, the opportunity to paint your own tile, as well as a coffee break with the famous Portuguese pastel de pasta cakes cost about € 40. As for food, it is especially tasty and inexpensive in Porto. People come here to try port wine, salted cod bacalha, sandwich francesinha, and the above-mentioned cake nata.
Prague, Czech Republic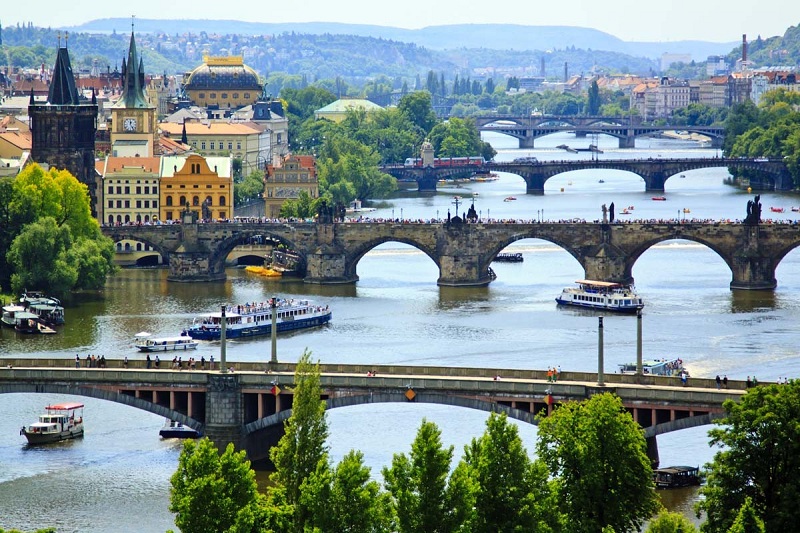 Prague is a city with amazing architecture and many historical monuments. Fortunately, even those who are planning a holiday in austerity can stay here. The night is here, if it is good to look for accommodation, it can cost less than $ 20. Do not limit yourself to walking around the city – rent a boat for four ($ 13) and go on a cruise on the Vltava: see the photogenic city bridges and architecture from a new angle. For lunch, head to the Pizza Nuova Pizzeria, which is considered one of the best in the city. "Margarita" here will cost $ 7, and the view of the city center is absolutely priceless. And, of course, in Prague, it is worth trying beer. As travelers say, it costs almost as much here as water.
Ottawa, Canada
Accommodation in Ottawa can be found for about $ 66 per night. And the two main attractions of the city are absolutely free: we are talking about the Rideau Canal, included in the UNESCO World Heritage List (in winter, the canal becomes the largest ice rink in the world), as well as the Parliament building. If you go to the city in the winter, visit the annual Winterlude festival – entertainment and winter treat at an affordable price provided.
It is most economical to come to Rio in the spring – at this time it is very warm, but not too hot, and prices are often slightly reduced (you can find housing for up to $ 100 per night). At your disposal – beautiful beaches, coastal bars and, of course, breathtaking landscapes. In the list of important cases, write down the following: watch the sunset on Cape Arpoador, try picking (beef steak) in one of the local restaurants, visit the cozy Santa Teresa district and take atmospheric photos there, and go to Lake Juan Fernandez You can do water sports or fly a helicopter.
Bali, Indonesia
Bali is probably one of the most favorite places to stand because here you can not only admire exotic landscapes and try unusual fruits, but also make spectacular photos in bikinis against the backdrop of tropical vegetation, majestic temples, and breathtaking waterfalls. And most importantly, a vacation in this tropical paradise can be for little money: luxury apartments here cost about $ 130 per night, and more modest housing can be found for $ 30. The main attractions of the island – nature, and temples – are free, and inexpensive food can always be found in local cafes and restaurants.
Busan accommodation costs an average of $ 47 per night, and most of the major tourist attractions are free of charge – including the ancient temples of Beomeosa, Seokbulsa and Haedong Yonggungsa, the modern building of the Busan cinema center, as well as picturesque beaches. In search of charming small streets with colorful houses, go to the village of Kamcheon – secure yourself amazing photos for Instagram.
Taipei, Taiwan
Taipei is one of the most promising tourist destinations. Plan your trip in advance so that it comes out cheaper. On average, accommodation here costs $ 55 per night. In the afternoon, go to the hot springs in the northern part of the city, and in the evening, enjoy the night city, full of lights and noisy diners. By the way, the street food here is a special kind of attraction. We advise you to boldly try local dishes like oyster pie or mi-sua soup from different counters. You eat enough, spending no more than $ 5.
Yerevan, Armenia
From Moscow to Yerevan you can fly in less than three hours – and get into a real gastronomic paradise: cafes and restaurants with lovely verandahs and delicious national cuisine here at every step, and prices on the menu will pleasantly surprise you. After a hearty lunch, go for a walk around the city: plenty of attractions here – from the Cascade with a variety of modern art to the Republic Square with singing fountains. In the city, you can hardly spend a lot, even if every now and then you go to cozy cafes for a cup of freshly brewed coffee with local sweets – ghata and shujouh, so for the rest of the money go out of town – to Lake Sevan or to the ancient temples of Garni and Geghard. Yerevan taxi will take you to your destination in an hour – and for very little money by Moscow standards.